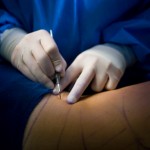 Despite its cost and perhaps the potential safety concerns attached to liposuction, the said cosmetic surgery procedure is among the most popular nowadays. The cost of liposuction varies depending on the specific area that will be treated, the type of liposuction procedure to be applied, the state where the procedure will be performed and the expertise of the surgeon conducting the procedure.
Obviously, expensive liposuction is an indication that you are dealing with a competent and qualified cosmetic surgeon. More so, with a competent and qualified cosmetic surgeon, the risks of complications from a liposuction procedure will decrease further.
Liposuction price range based on the specific area that will be treated:
Upper and lower abdomen $3,000 to 7,500 - the upper and lower abdomen is an area that is hard to penetrate and operate on that's why it's among the most expensive body areas of liposuction.
Arms - the cost of an arm liposuction procedure varies greatly depending on the expertise of the cosmetic surgeon or the reputation of the cosmetic surgery clinic you're dealing with. Nonetheless, most arm liposuction procedures range from $1,000-5,000.
Back - the back is another area where liposuction procedures can be applied effectively. Liposuction procedures covering the back area isn't that costly compared to others. The maximum amount that you are to pay for a back liposuction would be no more than $4,000.
Breast - a patient's breast is a delicate area for liposuction that's why liposuction on the breast is more expensive compared to other areas. Normally, breast liposuction would cost $3,000-7,000.
Buttocks $1,500 to 4,500 - the buttocks is among the most common body areas where liposuction procedure is applied. Usually, buttocks liposuction is priced around $1,500-4,500.
What are the disadvantages of cheap liposuction treatment?
For the record, cheap liposuction procedures aren't in any way cheap. Liposuction procedures that are performed by incompetent and unqualified or even unlicensed practitioners can potentially result into complications and injuries that will eventually call for more money spent on hospital bills, medicines therapy and others.
Just like any medical procedure, the price of liposuction should not be a constraint but rather an assurance of the effectiveness of the procedure. You should not go out looking for the cheapest price but rather for the most trusted cosmetic surgeon – and mind you, trust isn't cheap.
A competent and qualified cosmetic surgeon will orient you on the pros and cons of liposuction procedures. Expert cosmetic surgeons will also discuss with you critical topics such as your medical history, the areas where liposuction can be applied and the elasticity of your skin after the liposuction procedure.
Instead of looking for a cheap liposuction procedure, you can perhaps look for a hospital or cosmetic surgery clinic that offers flexible financing options.